Health Point Press
Health Point Press, Inc. is a Los Angeles-based company designed to produce, market, and sell quality books and booklets to specialized health markets. Health Point Press titles sell to the bookstore trade as well as to a large variety of non-traditional outlets.
Dr. Eamonn Quigley's Probiotic Series
Probiotics and Digestive Health
Eamonn Quigley, M.D.


In Probiotics and Digestive Health you will learn that your overall health depends on the healthy functioning of your digestive system... [»]

Probiotics: A Foundation for Gastrointestinal Health in Infants, Children, and Adults
Jon Vanderhoof, M.D.
Eamonn Quigley, M.D.

In Probiotics: A Foundation for Gastrointestinal Health in Infants, Children, and Adults you will discover that one such bacterium, Lactobacillus GG, has been clinically proven to be not only beneficial to the digestive system, but also to one's overall health. ... [»]
Also available in French, Italian and Spanish.

Probiotics: The Key to Digestive Health
Eamonn Quigley, M.D.

As the population ages, more attention is being devoted to the prevention of disease and its effects. Maintaining a properly functioning digestive system is critical. ... [»]
Dr. Eamonn Quigley

Dr. Eamonn Quigley is a Professor of Medicine and Human Physiology and a Prinicipal Investigator at the Alimentary Pharmabiotic Centre at the National University of Ireland. He serves as President of the World Gastroenterology Organisation (WGO-OMGE) and Vice President of the American College of Gastroenterology. [»]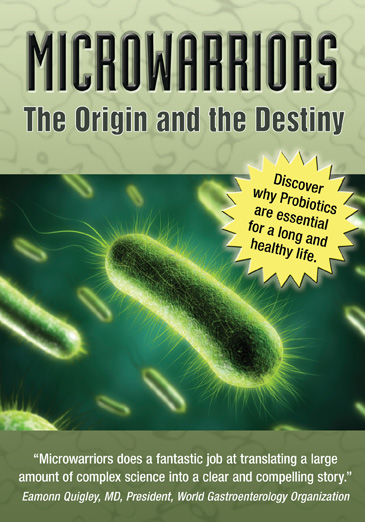 New Documentary on Probiotics
In the groundbreaking film, Microwarriors: The Power of Probiotics, you were taken "inside the world" of these beneficial bacteria. You learned everything about probiotics, from their discovery in the early 20th century to how they're tested and produced—plus the latest scientific research from some of the top probiotic experts in the world.
You found answers to your all your questions on probiotics in this landmark documentary—the most comprehensive, complete, and up-to-date film ever produced on probiotics and their contribution to overall health and well-being.
NEW FEATURE DOCUMENTARY COMING SOON!
The 2nd film, Microwarriors: The Origin and the Destiny, will not only be a further learning experience, it will also be a fascinating adventure. Viewers will travel from Boston to Israel, Stockholm to the Serengeti, from state-of-the-art science to a glimpse into the future.
This drama will tease, question, and compel each of us to look within at how we treat a part of our bodies that has too long been ignored—the bacteria on which so much depends.
For more information, visit www.microwarriorsmovie.com
Featured Titles
A New IBS Solution
Mark Pimentel, M.D.

Health Point Press and A New IBS Solution are proud to announce our new partnership with Commonwealth Laboratories, Inc. Commonwealth Labs is the premier breath testing laboratory referenced throughout the book to help diagnose and aid in the treatment of Small Intestinal Bacteria Overgrowth (SIBO). To find out more about Commonwealth Laboratories, please visit their website at: www.hydrogenbreathtesting.com.

A New IBS Solution offers a revolutionary look at the way Irritable Bowel Syndrome is currently being treated... [»]

Also available in Spanish.

The Power of Ubiquinol
Dr. Robert Barry


As the population ages, more attention is being devoted to the prevention of disease and its effects. Heart disease heads the list, with millions of people suffering from it throughout the country. Aging also can affect the quality of one's life--reducing energy and vitality. ... [»]

Epicor: The Key to A Healthy Immune System
Larry Robinson, Ph.D.
Vern Cherewantenko, M.D.

To maintain good health, a normal, balanced immune system is absolutely essential. Unfortunately, physical or mental stress, lack of sleep, pollution, changing seasons and even the normal aging process can all impair the immune system's ability to perform properly. ... [»]